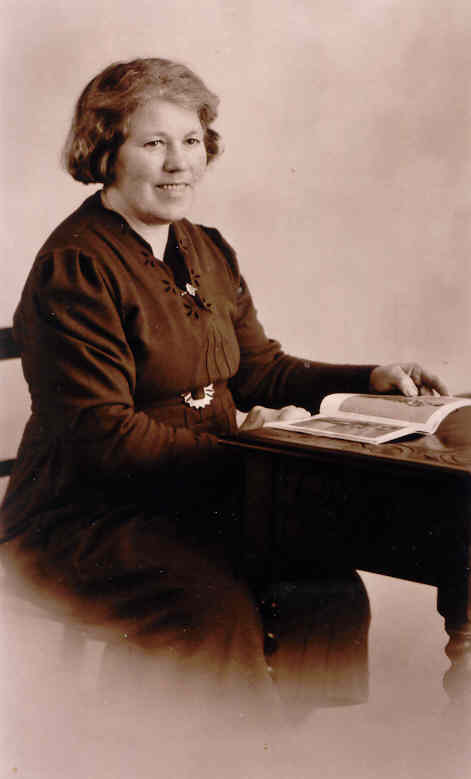 Daisy Shelton (formerly Martin, née Burnell),
circa 1940.
Daisy

Burnell


1885-1952

Daisy Burnell was the third known child of George Burnell and Mary Ann (née Barker) of London, England.

When Daisy was about 6 years old, her father - a publican - died in 1891 in Dunstable, Bedfordshire, England. Her mother brought the family to Littleport, Cambridgeshire. It is here that her young widowed mother, Mary Ann, set up a new life and remarried to a Mr. James Smith.

Daisy and her sister Lillie Burnell worked for Hope Brothers shirt factory in Littleport and they both appear on the 1901 census with their Step-father James Smith and her half-sister, Winifred May Smith.

Seven years later, Daisy married Herbert Martin of nearby Little Downham, and they had four sons, but sadly it wasn't long before she too was widowed when Herbert was killed in a train accident in France whilst on his way home at the end of the First World War. Their youngest child, Cyril, was no more than a year old.

Daisy later re-married to Reuben Shelton of Little Downham, Cambridgeshire and together they went on to have three children, including Daisy's only daughter Edith ('Edie').
Further Details
Born:
16th November 1885, The Stables, Abercorn Place, Kilburn, Middlesex (now London), England.
Married:
Herbert Martin (1884-1917) on 20th October 1908 at St. George's Church, Littleport, Cambridgeshire, England.

Reuben Shelton

(1880-1954) in 1919 at Ely, Cambridgeshire, England.
Children:
Sydney James Martin

(1910-1977) married

Mima Sparrow

(19??-?)

Herbert George Martin

(1911-1985) married

Ada Murfitt

and

Olive Eunice Payton

(1920-1983)

Percy Martin

(1913-1991) married

Edna Olga Newman

(1916-1986) and

Irene E M Allen

(c.1911-?)

Cyril William Martin

(1916-2006) married

Margaret Barrett

.

Edith Rose Shelton

(1920-1995) married

Hubert Donald Merrit (1921-2005)

Maurice John Shelton

(1922-1984) married

Marjory Gillett

Frederick Hugh Shelton

(1925-1994) married

Valerie Upchurch
Census:
1891: 5yrs,

1 The Royal Oak, Church Street, Dunstable, Bedfordshire, England.

1901: 15yrs,

Rose Cottages, Littleport, Cambridgeshire, England.

1911: 25yrs,

4th Drove, Little Downham, Cambridgeshire, England.
Employment
1901:

Shirt Machinist

,

Hope Brothers Ltd

, Littleport, Cambridgeshire, England.
Died:
10th February 1952, Fourth Drove, Little Downham, Cambridgeshire. Aged 66 years.
Buried:
13th February 1952, with her second husband in Little Downham cemetery, Cambridgeshire.
Further Reading