Charles Cooper 1770-1848
Martha Cornwall 1869-1853
unknown line
unknown line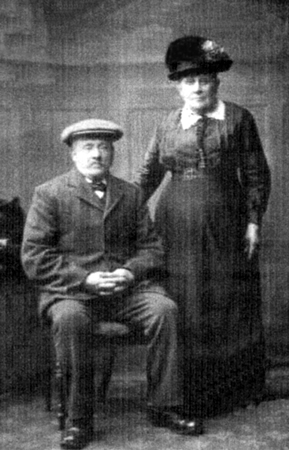 Harriet Newman (née Cooper) with her husband Alfred.
Harriet Cooper
1854-1925
Harriet was the youngest of the thirteen children of Ely shoemaker, Robert Cooper and his wife Elizabeth (née Fison).
Unlike many of Harriet's siblings, she remained in Ely and married Alfred Newman. Together they had thirteen children, with the penultimate child, Selina May, dying at the age of 2 years.
Their family lived initially in Church Lane and then later from 1881 in Bull Lane, near the Waterside area of Ely.
Harriet pre-deceased her husband and the picture on the far right was taken at her funeral. It shows her widower husband and all her children (with their respective spouses).
Further Details
Born:
17th June 1854, Walpole Lane, Ely, Cambridgeshire.
Baptised:
9th July 1854, St Mary's Church, Ely, Cambridgeshire.
Married:
Children
Charles Cooper Newman (1878-?) married Forence Forman.
Isabella Elizabeth Newman (1879-1945) married Arthur Martin.
Henry William Newman (1880-?) married 'Ginny'.
Emma Newman (1882-?) married William Webb
Robert B. Newman (1884-1958)
Maud Newman (1887-?) married Arthur Taylor
Arthur E. Newman (1888-1973) married Eliza Cornwell (1893-1970)
Frederick John Newman (1889-1973) married Ettie May Haylock (1895-1957)
Beatrice M. L. Newman (1890-?) married George Bowden
Albert Edward Newman (1893-?) married Lydia Fretwell
Selina May Newman (1894-1896)
Ellen Ada Newman (1898-?) married William Haylock
Died:
2nd September 1925 at 17 Willow Walk, Ely, Cambridgeshire, aged 71 years.
Buried:
5th September 1925, Ely Cemetery. Her husband was later buried in the same grave. Grave #G23(c).