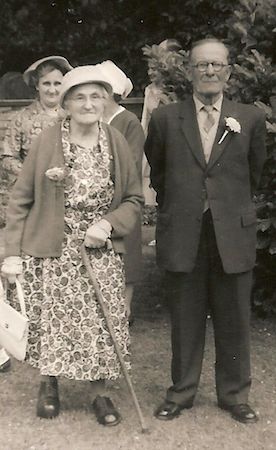 Alfred Newman with his wife Clara Emma (née Gilbert) in 1962.
Alfred Sydney

Newman


1883-1969

Alfred Newman was the fifth of thirteen children of Alfred Newman, a brewer's labourer and his wife Harriet (née Cooper) of Ely, Cambridgeshire, England.

Alfred worked as a Basketmaker and enters this trade after receiving an apprenticeship grant from Bishop Laney's Charity in October 1899. The Cambridge Independent Press notes that he was granted the apprenticeship to learn basketmaking from Mr John Fear, basketmaker of Ely.

Alfred remains with John Fear Basket Manufacturer and Rod Merchant until 1917, when John Fear writes a letter reluctantly giving up his labour to serve in the First World War.

It appears that he resumed basketmaking production briefly in Kent, before joining the Northamptonshire Regiment and the Labour Corps.

He married Clara Gilbert of Littleport, Cambridgeshire, and the couple initially lived together at Clara's parents house. However, set up home back in Ely, and raised six children whilst living at 5, Waterside, Ely.

Sadly though, two of their sons predeceased them. Their oldest son, Wilfred, died of "an incurable illness" (a combination of Septicemia, Uretheral Fistula and TB of the Kidney) having been released from Addenbrooke's hospital months before.

Their youngest child, Owen Newman was killed in Singapore as a Prisoner of War aboard a Japanese Hospital Ship when it was destroyed by American forces.

A photo of Alfred holding his dog "Spot" outside his cottage appeared in a book in 1997 which was compiled by Cambridgeshire historians; Mike Petty and Pamela Blakeman which depicted Ely in a photographical history.
Further Details
Born:
23rd April 1883 at Church Lane, Ely, Cambridgeshire, England.
Married:
Children:
Phylis May Newman

(1909-1987) married

Sidney Albert Fitch

(1908-1985).

Elizabeth Iris Newman

(1911-1970) married

Horace Farrow

(1913-1979)

Leslie Newman

(1914-1985) married

Olive Wilden

.
Edna Olga Newman (1916-1986) married Percy Martin (1914-1991).
Census
1891: 7yrs,

Bull Lane, Ely, Cambridgeshire, England.

1901: 17yrs,

Bull Lane, Ely, Cambridgeshire, England.

1911: 28yrs,

Burnt Chimney Drove, Littleport, Cambridgeshire, England.
Military History
WWI: Private (#33575) with The Northamptonshire Regiment.
WWI: Private (#83721) with The Labour Corps.
Employment
1899-1917:

Basketmaker

for

John Fear Basket Manufacturer and Rod Merchant

, Ely, Cambrigeshire, England.
Died:
10th April 1969, Ely, Cambridgeshire, England.
Cremated:
Cambridge Crematorium, Cambridge, Cambridgeshire, England.
Further Reading
The Archive Photographs Series: Ely (ISBN: 0752410075, Chalford Publishing Company Ltd)
Alfred appears on page 55, standing outside his cottage with his dog 'Spot'. The photograph was offered to the book's two compilers (celebrated Ely historians), by one of Alfred's nieces.