The
Yarrow

family of Cambridgeshire

The Yarrow family research is by far the most in-depth and best documented of all the family names that i have researched since 1996. This has most likely been aided by my Great Grandmother who reached the grand age of 104yrs old and had a great way with words and stories and could remember so much in the three centuries that she had seen pass by.

She was the third of the eventual 15 children (although she claims there were really 21 children in all) of railwayman James Yarrow and school teacher Adelaide Bishop of Little Thetford and later of Wilburton. Many of my Great Grandmother's brothers and sisters are still alive today and it would seem that longevity is common between them.

Sadly, one of the most keen historians, Lois, passed away in 2003 with my Great Grandmother the following year. She supplied me with dozens of photographs, stories, cuttings and letters, all of which i was fortunate to copy and these are now safely stored in my records.

The earliest Yarrow family member that I have been able to trace was Willyam Yarrow of Little Thetford with his wife Elizabeth. The first time that they appear on church records is in 1706 when their daughter, Sarah Yarrow is baptised at Little Thetford. The Yarrow family go on to have extensive families and become landowners, musicians, farmers, dairymen, publicans, church wardens, postmistresses and many other occupations. However, the surname remains unusual and this is probably down to the high number of female births in the last 100 years.

While my Gt. Gt. Gt. Grandfather, James Yarrow, stayed in Cambridgeshire, his brothers - William and Albert travelled in opposite directions with William settling up in Merseyside and Albert settling in Kent. James' oldest son, John William Yarrow also travelled and took the Yarrow name down to Dover, where the family lives and prospers today.
The Yarrow family on the move
Most of the Yarrow family's activity in the late 1600's through to the 1930's has concentrated on the village of Stretham and the hamlet of Little Thetford, where in the latter location, they seemed to own, organise and work in every conceiveable thing.
The Yarrow's did make it further afield though with branches moving to Dover and Deal (Kent) and Anfield (Merseyside) but there was another, so far unconnected from the Stretham and Little Thetford branch. This 'seperate' branch lived just a few miles away in Little Downham, a few miles North West of Ely.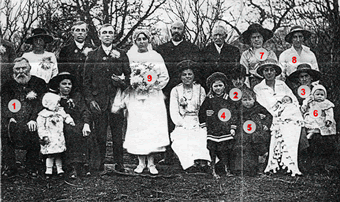 This photograph (albiet a photocopy of) came into my possession in 1996 when a descendant of the Little Downham family, named Terry Baxter, wrote to me. He provided me with the names of the numbered people as follows;
1. John Yarrow (Snr)
2. Rebecca Yarrow (née Strawson)
3. Elizabeth Yarrow (née Cooper)
4. Bessie Yarrow
5. Owen Yarrow (son of Mary Yarrow)
6. Bert Yarrow
7. Elizabeth Yarrow
8. Mary Yarrow
9. Charlotte Yarrow (with her groom, Mr Jordan)
Further Information