Grandparents
Mary Rayner 17??-?
unknown Wright line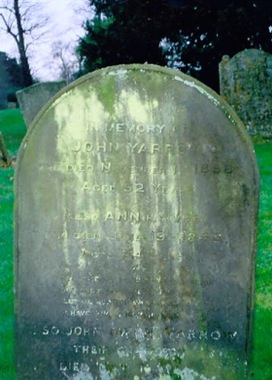 John, Ann and John Owen's headstone in Stretham,
Cambridgeshire.
John Yarrow
1806-1858
John Yarrow was my Gtx4. Grandfather and was the third of the ten known children of William Yarrow and his wife Elizabeth Wright of Little Thetford. He married Ann Whiten in 1829, who bore him at least two children before she died. John went on to marry my Gtx4. Grandmother Elizabeth Jeffery of St. Mary's, Ely, Cambridgeshire.
John and his second wife lived in Little Thetford and were the publican's of "The Wheat Sheaf" (long since disappeared) during the 1850's . Here, they lived with John's spinster sister Susan Yarrow, who is noted on several censuses as "afflicted" and as having suffered from fits since birth which may have been epilepsy. Susan died in 1886.
John died in November 1858, leaving his wife Elizabeth to bring up her young family. His Will notes that he left effects under the value of £200 and that his widow and his brother James were the executors.
At this time, John's older children (from his first marriage) were now parenting their own families and his oldest son was the landlord of "The Three Horseshoes" in Little Thetford. The family not only were publicans but were also shopkeepers and farmers at various points of their time in Little Thetford.
Further Details
Born:
1806, Little Thetford, Cambridgeshire.
Baptised:
23rd February 1806, Little Thetford, Cambridgeshire.
Married:
Children:
Census
1841: 30yrs, Little Thetford, Cambridgeshire.
1851: 44yrs, The Wheat Sheaf, Little Thetford, Cambridgeshire.
Died:
1st November 1858, aged 52 years.
Buried:
5th November 1858, with his first wife Ann and his grandson John Owen Yarrow in Stretham churchyard, Cambridgeshire.