Grandparents
Rebecca Lythell 1820-1889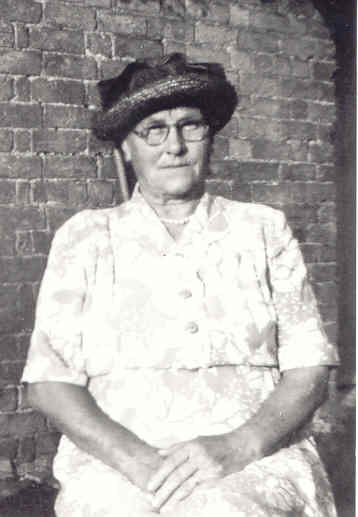 Louisa Pope (née Barber).
Louisa Barber
1881-1974
Louisa Barber was the fifth child of Reuben Barber, a shepherd and his wife Elizabeth Dewsbury.
She was born and schooled at Welney on the Cambridgeshire/Norfolk border and then went to work as a servant in Witchford, Cambridgeshire, for the Hopkin household. In 1902 she gave birth to her first child, outside of marriage.
She went on to marry Flanders Hopkin (of the household to which she was a servant) who was 27 years her senior and the couple had four children. Flanders died in 1910, leaving Louisa as a young widow with five young children.
She later married John Pope and had two further children - the first died at birth after being strangled by the umbilical cord.
Further Details
Born:
23rd June 1881, Welney, Norfolk.
Married:
Flanders Hopkin (1853-1910) on 27th January 1903 at Witchford, Cambridgeshire.
John Pope (1880-1957) on 3rd October 1914 at Witchford, Cambridgeshire.
Children
Phillis Effie Hopkin (1903-1985) married George Burrell (1901-?)
Flanders Hopkin (1904-1995) married Lillian Willison (19??-?) and later to Edna Hotchkiss (-1991)
Walter Hopkin (1906-1987) married Eleanor Maud Sizer (1905-1982)
Richard Sidney Hopkin (1909-1987) married Dorothy Lockwood (1916-2005)
Audrey Pope (1919)
Audrey Sybil Pope (1920-200?) married Arthur William Giddens (1917-198?)
Census
1891: 9yrs, Townsend, Southery, Norfolk, England.
1901: 19yrs, Main Street, Witchford, Cambridgeshire, England.
1911: 30yrs, Witchford, Cambridgeshire, England.
Died:
28th January 1974 at 239 Main Street, Witchford, Cambridgeshire aged 92 years.
Buried:
With her second husband in Witchford churchyard, Cambridgeshire.
Further Information