Generation #7
Esther Elizabeth Nottage c.1790-1875
Generation #6
Samuel Barker 1821-?
Samuel Barker 1825-?
Martha Barker c.1825-?
Mary Ann Barker 1827-?
Nathaniel Barker 1832-?
Esther Barker 1835-?
Generation #5
William Barker 1853-?
Harriet Eliza Barker 1856-?
Henry Barker 1859-?
Elizabeth Barker 1862-?
Thomas Barker 1866-?
Frances Barker 1869-?
The
Barker

family of Hertfordshire

The Barker family lived in Barkway in North Hertfordshire, a few miles East of Royston during the 1800s.

There is some ambiguity as to the identity of William Barker's mother. Wives of a Joseph Barker are noted on the IGI as Esther Elizabeth Nottage (married in 1823) or Hester Hawks (married in 1809). Both are seemingly feasible, given William's birth in 1823... but there is an inconsistency of Joseph and Hester/Esther's date of birth when looking at the 1841 and 1851 Censuses that would make William's parents less than 10 years old when they married, if they were Joseph Barker and Hester Hawks.

This leaves the most likely candidate as Esther Elizabeth Nottage but the IGI again throws up ambiguity as there are a number of children for Esther and Hester, both ranging from 1810 through to 1830.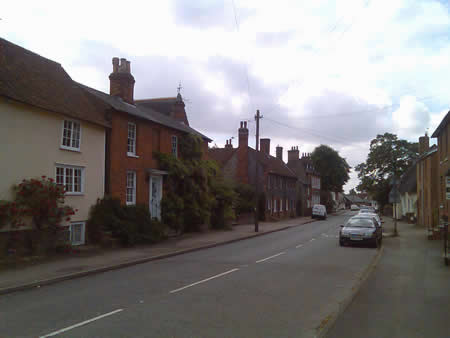 Barkway High Street, Hertfordshire. © Andrew Martin.
On the 1881 Census, Mary Ann Barker's parents and two of her younger siblings appear as living at High Street Cottage, Barkway. With them is her grandmother (Mary's mother), Sarah Head (née Haggar), noted as a 71yr old widow.
By the time of Mary Ann's second marriage to James Smith in 1896, her father had died. It is as yet, unknown as to whether her mother survived to this year.
Further Information