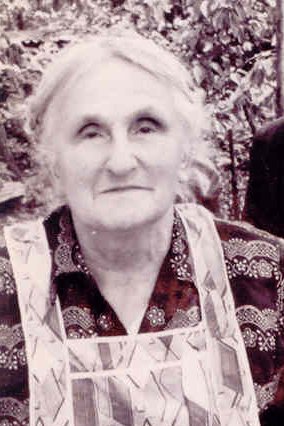 Clara Emma Newman (née Gilbert).
Clara Emma Gilbert
1884-1973
Clara Gilbert was the sixth of the nine children of James Gilbert and his wife Elizabeth Howlett of Littleport, Cambridgeshire.
She married Alfred Newman, a Basket Weaver of Ely and the couple had six children whilst living at number 5, Waterside, Ely, Cambridgeshire.
Sadly though, two of their sons predeceased them. Their oldest son, Wilfred, died of "an incurable illness" (a combination of Septicemia, Uretheral Fistula and TB of the kidney) after being sent home from Addenbrookes Hospital, Cambridge.
Their youngest child, Owen Newman was killed in Singapore as a Prisoner of War aboard a Japanese Hospital Ship when it was destroyed by American forces.
When her father died, each daughter was given 10 acres to farm during the rest of their lives, with the son getting the rest of the Gilbert land at Littleport. Upon Clara's death, the land returned to the Gilbert family whom still live in Littleport and still farm 'Clara's Field' today.
Further Details
Born:
14th October 1884, Littleport, Cambridgeshire.
Baptised:
16th November 1884, at St Matthew's Church, Littleport, Cambridgeshire.
Married:
Children:
Phylis May Newman (1909-1987) married Sidney Albert Fitch (1908-1985).
Elizabeth Iris Newman (1911-1970) married Horace Farrow
Leslie Newman (1914-1985) married Olive Wilden.
Edna Olga Newman (1916-1986) married Percy Martin (1914-1991).
Died:
1973, Ely, Cambridgeshire.
Cremated:
Cambridge Crematorium.